Build Your Knowledge with Virtual Technical Sessions
Learn from subject matter experts who provide valuable insight on fluid system applications and technical product considerations. The goal of every Tech Talk is to share relevant knowledge that will help you in your job and help you optimize the performance of your systems.
Swagelok Central Ontario | Atlantic Canada's free webinars contain 45-minute technical overviews with breaks throughout to answer your questions in the live Q&A chat.
Latest Webinar

This webinar presents an overview of Canada's new Volatile Organic Compound (VOC) Emissions regulations that come into effect 2022-23. Specific sections such as Leak Detection & Repair are highlighted along with a description of which facilities are subject to the regulations.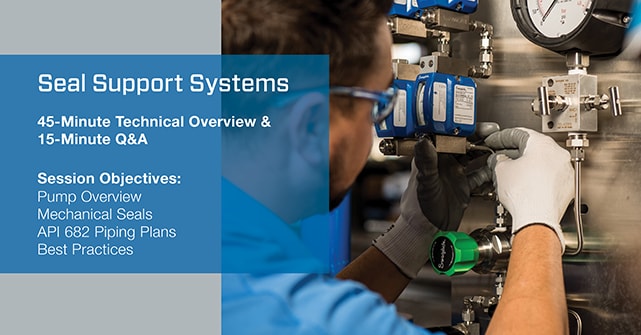 When your rotating equipment fails, it's often because your seals fail. This happens for many reasons: misalignment, seal wear, fatigue, poor lubrication, contamination, or improperly sized and selected components. This Tech Talk provides you with the insight you need to extend the life of your mechanical seals and keep your rotating equipment running.
register for the seal support tech talk
Make it a Virtual Round Table?
Our subject matter experts are also available to meet virtually with companies on a one-on-one basis to provide insights, discuss applications, and answer questions specific to your business. We call this a Virtual Round Table and it is a great opportunity to learn from one another in an open forum.
Tech Talk Webinar Recordings