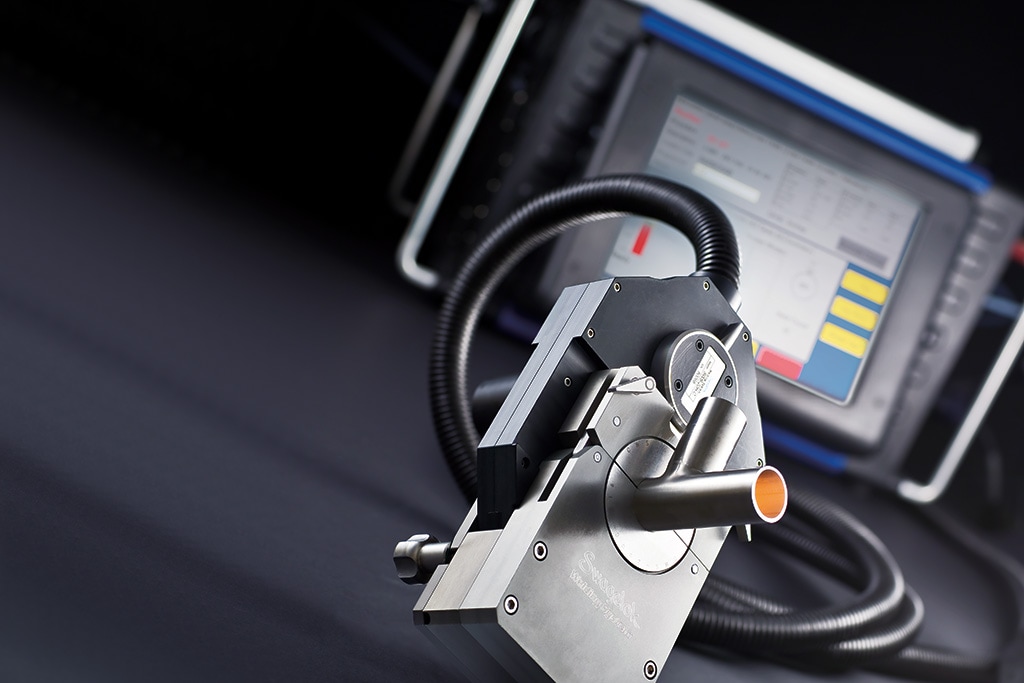 The Right Orbital Welding System to Improve Consistency, Quality, and Safety
Andrew Wright, Engineering Manager

Advantages of Orbital Welding over Manual Welding
Industrial fluid systems typically operate under extremely high pressures and can contain hundreds of welded connections. The failure of just one joint can have catastrophic consequences. For several decades, automatic orbital gas tungsten arc welding (GTAW) has gained popularity across industries where maximum leak integrity, high performance, and ultra-cleanliness are crucial. The precision and reliability of automatic orbital welding often make it a better choice than manual welding, especially for critical applications.
Key Advantages:
For the Welder
For the Process
For the Facility

Repeatable, reliable, high purity welds.
Reduced errors.
Quick set up time.
Powerful tool for experienced welder.
Intuitive touch screen operation for new users.
Low weight (approx. 20 kg)

Real-time monitoring.
Recording of weld output performance.
Accurate instrument readings.
Safest connections with fewer potential leak paths.
Elimination of threaded and mechanical joints.
Reduced maintenance and replacement costs.

Quality, repeatability, and consistency outperforms manual welds.
Improved safety.
Quick return on investment.
Electronic data capture to automate your documentation.
State of the art technology monitors process, while capturing real time data.
Data is formatted for statistical analysis.
Nine Reasons to Choose a New Orbital Welding System1
1) Open Platform Design
An open platform design enables an interface with standard devices and the potential to expand as technology and demands advance.
2) Automation
Previously manual aspects, such as travel speed, arc gap, current control, and gas flow, are automated. This reduces variability and defects, enabling welders to focus on completing actual welds.
3) Programming
Every orbital weld utilizes a program that controls the system's output characteristics. User-friendly systems provide step-by-step procedures to create programs for a wide range of tube diameters, wall thicknesses and base materials.
4) Documentation
Documentation of the weld is often important for quality assurance and control. Operators no longer need to maintain detailed, written weld logs, as today's orbital welding technology enables this data to be stored within the system for retrieval and transfer to databases for analysis and reporting.
5) Weld Repeatability
An electrode housed in the weld head rotates around the tube. This highly controlled process results in high-quality welds that are reliable and repeatable.
6) Gas Control
Automatic shield gas control to the weld head helps eliminate operator inefficiency and ensure weld quality. Also, the integrated flow controller prevents operators from initiating the weld without gas flow, an error that could result in weld head or work piece damage.
7) Blast Purge
Blast purge features allow operators to start a weld sooner by rapidly filling the lines and then automatically returning gas flow to normal levels.
8) Power Versatility
Advanced welding systems provide the power output necessary to weld the heavy-walled components found in Oil & Gas and General Industrial applications, as well as smaller-diameter, thin-walled tubing for Research & Development or Semiconductor applications.
9) Portability and Accessibility
Compact, lightweight orbital welding systems are designed for portability, with power supplies that can easily be transported across job sites. Remote controls, as well as detachable weld heads and fixtures, enable joints to be pre-positioned and permit welding in hard-to-reach places.
Swagelok's M200 Orbital Welding System
The Swagelok M200 Orbital Welding System provides precise control of welding variables, including current, electrode travel speed, and OD shield gas flow to produce consistent and repeatable gas tungsten arc welds (GTAW). The unit has thousands of pre-loaded weld procedures for a range of materials, including stainless steels, and outside diameter sizes ranging from 1/8 in. OD up to 4 in. OD (tube and pipe). The weld process is fully autogenous, meaning filler metal is not required, and works with a square butt weld making the weld prep extremely simple, fast, and cost effective. Square butt welds are easily achieved with the Swagelok Facing Tools.
A touch screen display is included for easy navigation and data input that responds to fingertip operation, as well as accommodating gloves for those working in the field. The screen layouts are simple to follow and the Windows-based system monitors the welding, captures and compiles data in real time, and electronically transfers it from the welder to a computer, making tracking a simple process.
Swagelok weld heads have optical speed control without the need for a tachometer or calibration. They also have great flexibility to perform welds farther away from the power supply (up to 200ft) when using weld head extension cables. There are times where calibration of the power supply and the weld head may be required, and the M200 Calibration Unit is available for those special cases.
Our weld heads and fixturing selection include:
Fixtures and collets are optimized for ease of use and adjustability, yet provide a solid gripping force to secure welds and enhance safety in high volume weld operations.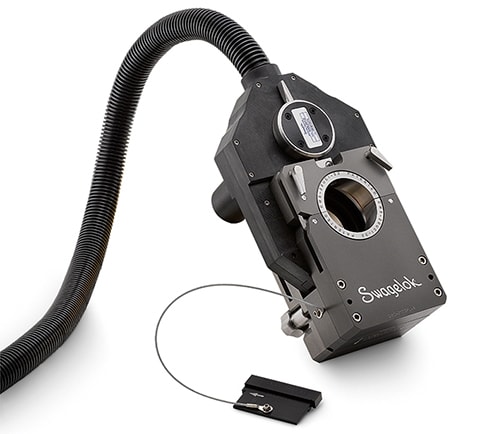 Built-In Mass Flow Controller (Shield Gas)
The M200 power supply has an integral mass flow controller (MFC) to control and monitor the flow of the gas supply system that provides OD shield gas to the weld head. OD shield gas fills the weld chamber to protect the electrode and weld puddle from contaminating elements in the surrounding air. ID purge gas flows within a tube or at the back of a weld joint to remove oxygen and prevent oxidation.
Automatic ID Purge Control
The optional Automatic ID Purge Control for the Swagelok M200 power supply provides a complete and fully automated inside diameter (ID) purge system, for a consistent, repeatable weld bead. When this option is combined with the standard integrated mass flow controller (MFC) of the M200 for outside diameter (OD) shield gas, it provides a complete, automated system for purge control. Real-time monitoring and recording of all purge operations are added to the M200 weld log detail. Additional features include:
Dynamically changes purge flow to maintain proper ID pressure at the weld joint.
Replaces multiple purge components and their manual adjustment process with an automatic, fast-reacting system.
Easily identifies misaligned weld joints by monitoring purge gas flow.
Prevents the weld sequence from initiating without proper pressure or flow levels.
Reduces setup or changeover time.
Reduces system installation costs.
Welding Purge Panel
The Swagelok® Welding Purge Panel displays the flow of purge gas and the resulting pressure at the weld point. This information allows the operator to set up weld configurations quickly and repeatedly.
The welding purge panel:
E

nsures steady, accurate flow of purge gas.

A

llows welds to be clean and stable while minimizing workbench clutter.

P

rovides both ID and OD purge.

I

s compatible with all Swagelok welding systems.
The purge panel is highly configurable:
Choice of two or three flowmeters for added flexibility.
Multiple gauge range options for welding different tube sizes.
Fractional and metric options.
Optional pre-set regulator to reduce incoming purge gas pressure.
The purge panel clearly indicates flow rates and can be used for welding many different tube sizes from 1/16 to 2 in. and 2 to 50 mm OD.
An aluminum carrying handle is provided for easy transport.
---
Watch and Learn

Manufacturing plants all over the world are facing a growing challenge—highly-tenured employees nearing retirement, creating a manufacturing skills gap. For plant managers, this means finding a way to bring less experienced employees up to speed, particularly on key areas like fluid systems, before this deep pool of knowledge disappears. If you're designing a critical fluid system, you're likely considering welding for assembly. While the efficiency gains of automatic orbital welding can help you overcome welder shortages, proper orbital welding training is essential to bring your emerging welders up to speed.

Swagelok provides a five-day orbital welding training course, which may be offered virtually or in person.
See an Orbital Welding Training testimonial from the University of Ottawa:

This training program is designed to help you:
Gain an understanding of welding principles.
Understand setup and operation of the Swagelok M200 orbital welding system.
Troubleshoot frequently encountered welding problems.
Avoid operational issues through hands-on experience.
Optionally test for ASME Section IX qualification if you need to fulfill QA/QC requirements.
request orbital welding training
---
Rent or Buy
If you're renting and have some experience operating an orbital welder, we may still ask a few questions such as:
When did you last use a welder?
Have you rented from us in the past?
What size of material are you welding? (This determines which of several heads to use).
What wall thickness? (This helps determine which electrode is best).
As with any rental agreement, you assume responsibility for any damage, but we want to reduce the chances of you having any problems. That is why we encourage new users to take the training class.
We can usually have a welder ready for you with only a couple of weeks notice. If you want to buy, it will take longer, but that extra time means you have more flexibility on scheduling the training class.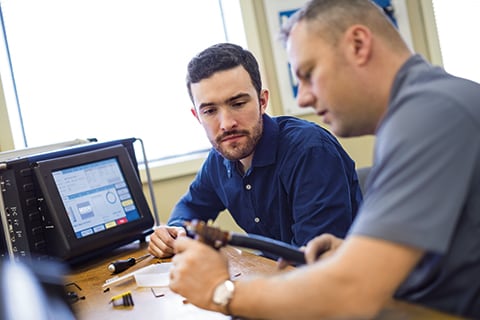 ---
Swagelok's Welding System M200 is available for rental or for purchase. If you're not sure how to use the machine, we can help you with a training session to get you comfortable with the system. We also provide design and assembly services in our TSSA Certified Fabrication shop, with registered weld procedures and qualified welders to ASME Section IX.
subscribe to the swage talks blog
1. John Glessman, "Advancements In Automatic Orbital Welding Systems, Part 1 & 2", impomag.com, July 24, 2012.