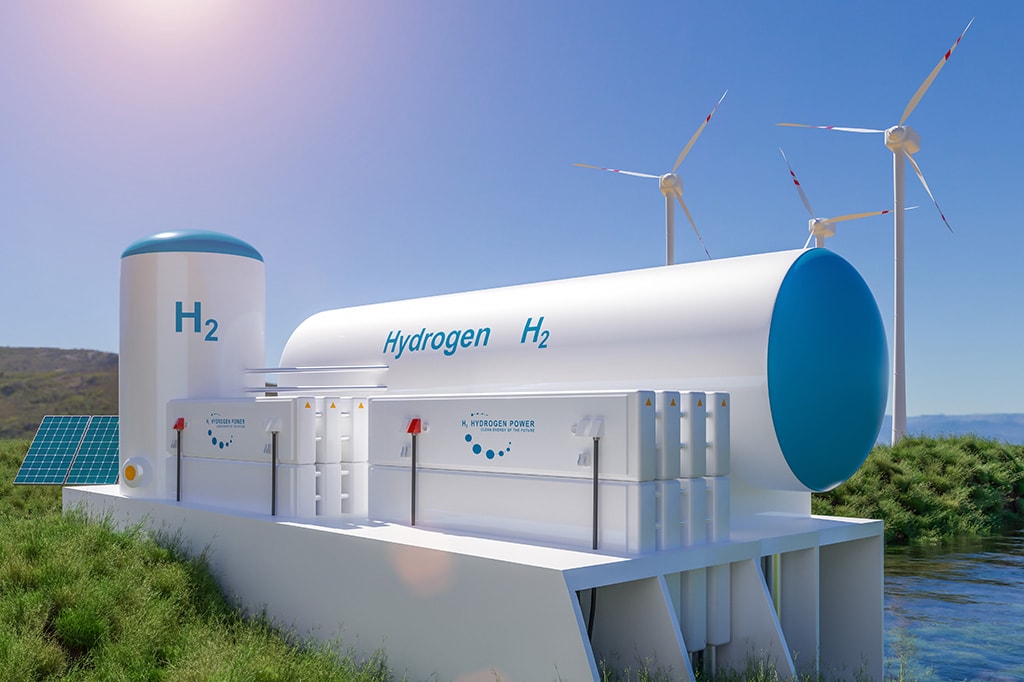 Clean Energy: Swagelok Solutions for Hydrogen & LNG/CNG Applications
Hassan El Ghoul, Mechanical Solutions Engineer

Meeting Key Requirements
The increasing need for sustainability is fostering innovation in energy markets, and clean energy technologies are revolutionizing fuel generation and power production. In this context, high-integrity fluid system components play a crucial role in various applications such as hydrogen electrolyzers, fuel cells, storage and containment systems, refueling infrastructure, and on-vehicle systems. Swagelok offers a comprehensive range of products and customized services tailored for demanding clean energy applications.
Swagelok's solutions address key requirements in the clean energy sector, including safe storage and transfer of high-pressure substances, enabling efficient energy densities and operational ranges. Moreover, Swagelok ensures consistent delivery of critical components, facilitating uninterrupted production and adherence to schedules. To guarantee long-term durability and resistance against corrosion, Swagelok incorporates stainless steels with higher alloy content and precise specifications.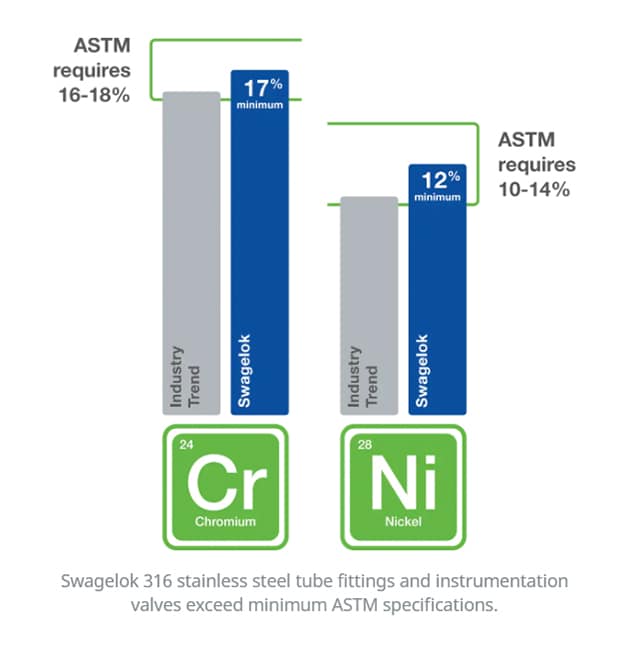 With decades of experience and expertise in handling hazardous fluids and gases under pressure, Swagelok is well-equipped to meet the specific needs of today's clean energy pioneers. Through proprietary products, solutions, and services, Swagelok strives to exceed expectations and support the advancement of clean energy technologies.
As the hydrogen energy market advances at a rapid pace to meet the global demand for zero-emission energy solutions, various stakeholders including hydrogen producers, energy companies, infrastructure developers, and vehicle OEMs are working towards scaling up production. However, they must also address the unique challenges associated with hydrogen containment and transfer.

One of the challenges involves the potential escape of small-molecule hydrogen gas through even the smallest connection gaps, which can lead to gas leaks and safety risks. Additionally, the high-containment pressures required in hydrogen systems, reaching up to 1050 bar (15,200 psi), necessitate the use of high-performance components that surpass the capabilities of traditional options.

Moreover, the presence of hydrogen can lead to hydrogen embrittlement and degradation, which can compromise the integrity of critical system components and potentially result in failures.

To address these challenges and more, Swagelok provides essential fluid system components, including hydrogen-specific solutions. Furthermore, Swagelok offers materials science expertise and hands-on engineering services to support customers in overcoming these obstacles effectively.
Hydrogen Production Considerations
To unlock the full potential of hydrogen as a truly green energy source, it is crucial to focus on the electrolysis process, which is essential for hydrogen production. Regardless of the design of the electrolyzer, it requires high-integrity fluid system components to ensure the reliable transfer of hydrogen and oxygen to their respective destinations within the production process.

Maintaining leak-tight performance across a wide range of process equipment is vital to uphold safety and profitability in hydrogen production. By utilizing high-quality materials, critical components can maintain their integrity and withstand the inherent challenges associated with hydrogen containment.

In addition, readily available parts and prefabricated systems enable quick scalability, allowing hydrogen producers to remain agile and meet the growing demands for hydrogen power.
read a hydrogen production and storage success story
Distribution and Infrastructure: Designing Leak-Tight Systems
To ensure the successful delivery of cleanly produced hydrogen to end-use applications, a closely interconnected chain of processing, storage, distribution, and transmission systems is required. Within this chain, achieving high levels of fluid system performance is essential.

To achieve desirable energy density, high-pressure storage and containment are necessary, and maintaining leak-tight transfer throughout the distribution pipeline is crucial for maintaining profitability and reliability as hydrogen moves along the system. Additionally, ease of installation and local service support are key factors in rapidly ramping up infrastructure to meet growing demand.

Swagelok provides the solutions needed for the reliable distribution of hydrogen. Our comprehensive range of high-performance products, including custom or standard preassembled systems, is designed to meet the unique requirements of hydrogen distribution. Backed by our specialized knowledge and expertise, we can help accelerate the development of vital infrastructure for hydrogen distribution.

Hydrogen Refueling and Mobility
Swagelok understands the importance of safe and reliable refueling infrastructure as the demand for hydrogen mobility grows. Whether it's compressors, storage cylinders, priority panels, pressure control devices, or dispensers, high-quality and high-performance components are necessary.
In refueling stations, safety and minimal risk are crucial, allowing any driver to operate a dispenser without complications. Components and connections must withstand rapidly changing temperatures during dispensing cycles without degradation. As infrastructure scales rapidly, quick and reliable design and assembly of complex systems become essential.

Swagelok offers a comprehensive portfolio of products for the compression, storage, and refueling of hydrogen. We understand that hydrogen fuel cell technology holds great promise, particularly in heavy-duty vehicle applications. For on-road use, uncompromising vibration resistance is vital for critical connections in hydrogen fuel systems. Ease of installation is also crucial for efficient production, especially for OEMs pursuing just-in-time strategies. We provide readily available parts and assemblies to meet production schedules.
LNG/CNG Applications
When it comes to LNG and CNG applications, reliable compression, transfer, and refueling systems are crucial at every stage. Leak-tight performance is essential to eliminate fugitive emissions and protect the environment. Swagelok's experience in transportation markets and comprehensive service and support make us well-equipped to address your toughest fluid system challenges.

Efficient distribution of natural gas, whether compressed or liquid, is crucial for operational success. From the source to the point of use, all components must be designed for maximum reliability. Swagelok provides high-integrity components and solutions to develop critical new natural gas distribution infrastructure.

In the proliferation of heavy-duty LNG and CNG vehicles, widespread and reliable refueling infrastructure is necessary. Safe dispenser technology is required to accommodate pressure and temperature changes. Maximizing refueling station capacity is critical, as is the ability to quickly assemble complex fluid systems. Swagelok offers a range of solutions and services to meet the needs of refueling infrastructure, from individual components to preassembled systems.

In LNG and CNG applications, fittings and connections must withstand vibrations and temperature changes. Swagelok's on-vehicle solutions are certified to industry standards and designed to withstand the unique challenges of these applications. We prioritize safety, reliability, and high performance across a wide range of applications.
Swagelok Products and Services for Clean Energy Applications
Swagelok's clean energy components are designed with the highest levels of safety, reliability, and performance in mind. Our products, such as the FK series fittings for hydrogen applications, offer outstanding tube grip, leak resistance, and simplified installation. Our stainless steel components incorporate elevated levels of nickel and chromium for enhanced corrosion resistance and compatibility with hydrogen, natural gas, methane, or ammonia.

To support efficient production, Swagelok offers custom, ready-to-install subsystems and assemblies built to exact specifications. Our CNC tube-bending services and preswaged tubing and fittings save time and labor in the assembly process. We provide a range of services, from field engineering support to global reach and local support, to ensure your fluid system needs are met.

Swagelok understands the importance of material selection for clean energy applications. The containment of hydrogen, being one of the smallest molecules, requires stainless steel with elevated nickel and chromium levels. Elastomeric components also play a crucial role, and chemical compatibility must be considered in materials selection. Swagelok can help specify the right materials for fuel systems, infrastructure, and other applications.

Capitalizing on emerging transportation markets requires skilled teams that can reliably work, assemble, and operate critical gas systems. Swagelok offers a variety of training opportunities, covering tube fitting installation and inspection, tube bending, hose routing, orbital welding, cone and thread installation, and more. Our experienced educators ensure that fluid systems professionals have the necessary knowledge and skills to uphold standards and best practices.
Swagelok is committed to providing reliable and comprehensive solutions for alternative fuels and clean energy applications. With our expertise, products, and support, we aim to help you meet the operational challenges and achieve success in your clean energy endeavours.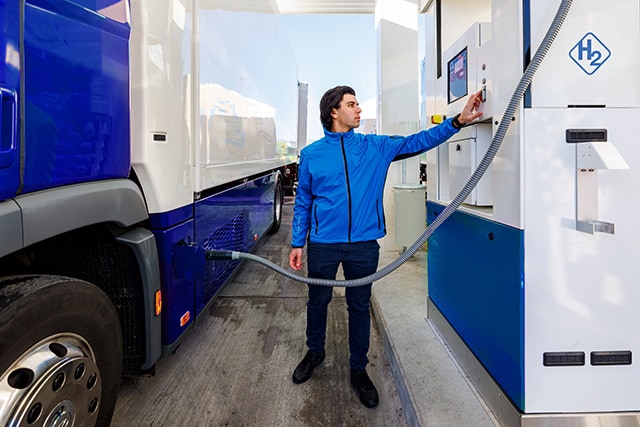 contact our subject matter experts for more information
We look forward to sharing more knowledge with you. To stay up to date on our latest blog posts, please subscribe at the link below.