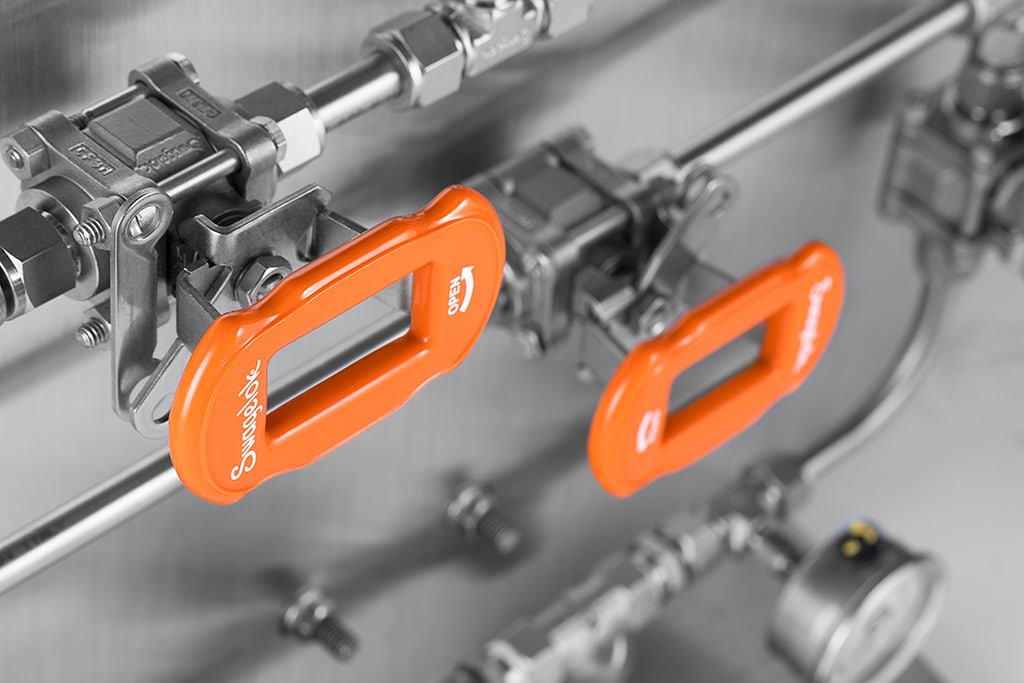 Seal Support Systems for Peak Performance:
Introduction & Flush Plans
Phil Daniels, P.Eng., Mechanical Solutions Engineer

At Swagelok Central Ontario | Atlantic Canada, we are always looking for new ways to help create efficiencies and performance improvements for fluid applications. A specific area of focus has been seal support systems, which are auxiliary systems that help to ensure peak performance of mechanical seals in process pumps. It is essential to have reliable, long lasting mechanical seals which are critical systems for many industrial process operations. As such, we have decided to create a series of blog posts with a focus on such a critical topic. To begin, we will discuss seal support systems in general, how they fit into a pump system, and the various types of systems available. We will then review the "flush" type of seal support systems, and where one can find guidance on proper plan selections.
In addition to the seal support system blog series, we have also developed a Tech Talk webinar to help you extend the life of your mechanical seals and keep your rotating equipment running.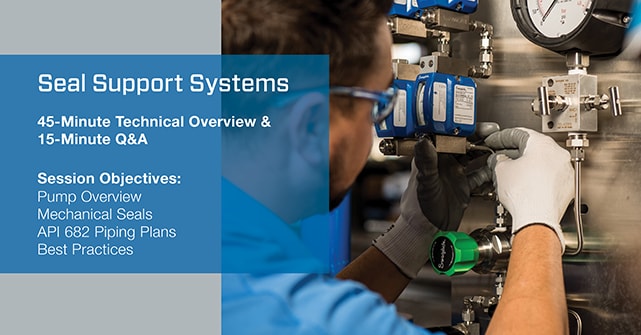 sign up for the seal support systems webinar
Purpose and Overview of Seal Support Systems
The purpose of a seal support system is to provide seal fluid to the mechanical seal of a pump. This fluid can be a gas or a liquid, but importantly must maintain fluid conditions like pressure, temperature, and flow to ensure proper and long-term performance of the mechanical seal. Mechanical seals help to contain leakage, contain pressure, and exclude contamination. At the correct conditions, the seal fluid contained within the seal chamber will produce optimal seal performance through proper lubrication and/or cooling, thus avoiding excessive wear and excessive leakage across the seal.
There are numerous design standards and guidelines for industrial pumps, mechanical seals, and seal support systems, with the most common published by the American Petroleum Institute (API) and the American National Standards Institute (ANSI). While there are similarities between API and ANSI, refineries more commonly use API as it generally calls out heavier components that are often rated to the higher pressures and temperatures needed in the demanding applications of this industry. By contrast, ANSI calls out less heavy-duty components that are more common in chemical plants and other industries with applications that are less critical than that of refineries.
Types of Seal Piping Plans
The API standard that applies to Seal Support Systems is API 682, which provides guidance for shaft sealing systems for pumps. We will be referring to API 682 4th edition, which has a numbered system for the various Seal Support Systems, commonly referred to as "Seal Piping Plans". Each Plan outlines the minimum requirements and configurations that may be used for various pumps and mechanical seals.
First, there are Flush plans, which introduce a flush fluid into the pump seal chamber. Next, there are Buffer/Barrier plans, which use a circulating liquid or gas as a buffer or barrier between the process fluid and the atmosphere. Additionally, there are plans that are used for leakage collection or to quench the mechanical seal with a fluid. Below is an example of a Seal Piping Plans schematic from API 682.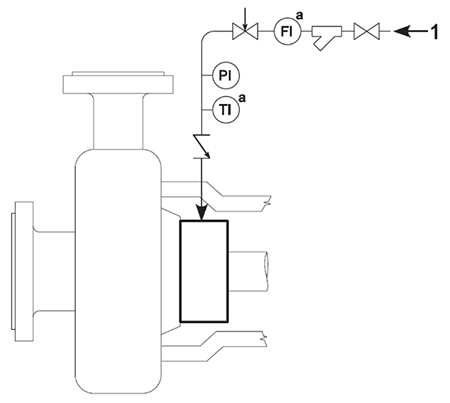 Figure 1. Plan 32 Schematic from API 6821


Types of Flush Plans
The most basic type of Seal Support Systems are flush plans, which inject fluid into the seal chamber. There are some flush plans that use internal porting to direct flow from the process to the seal chamber (Plans 01, 02, 03); however, we will be focusing mainly on the various flush plans with external routing. The flush fluid can be the process fluid itself or it can be from an external source. The most common and simple type of flush plan is Plan 11, which recirculates flow from the high‐pressure section of the pump, typically the discharge piping, through a flow control orifice and to the seal. An example of this is shown in Figure 2 below, demonstrating the simplicity of this flush plan.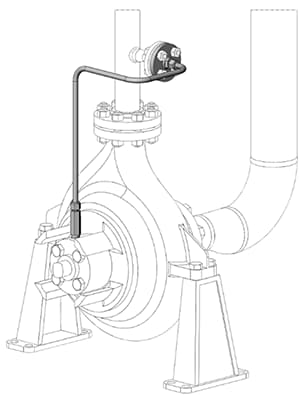 Figure 2. Plan 11 arrangement, flow control orifice is integral to flange fitting.

The numeric flush plans aim to build upon the design of Plan 11 by adding additional components to the design. These additions can include a strainer or cyclone separator for filtration (Plan 12, 31), modified routing (Plan 13, 14), a cooler (Plan 21), or a combination of these options (Plan 22, 41). An additional modification is seen in Plan 23, where the flush flow remains separate from the impeller area of the pump. The flush fluid in a Plan 23 is instead circulated from the seal chamber, through a cooler, and back into the seal chamber, show in Figure 3 below.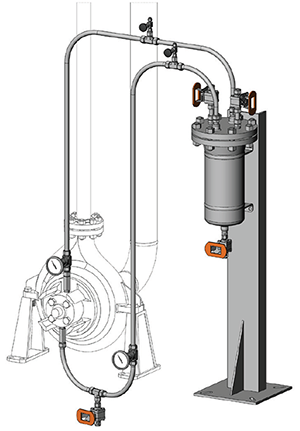 Figure 3. Plan 23 arrangement, cooled flush recirculated through the seal chamber.

The final and very common flush plan is Plan 32, which differs from the other flush plans by delivering flush fluid from an external source, often water. The plan includes such components as valves for shutoff, flow control, and back-flow prevention, a strainer for filtration, and indicators/instruments for pressure, temperature, and flow. Due to the number of components and external nature of the plan, it is often installed nearby on a panel for easy monitoring and maintenance. Below is an example of a Plan 32 installation, along with a P&ID displaying some optional components.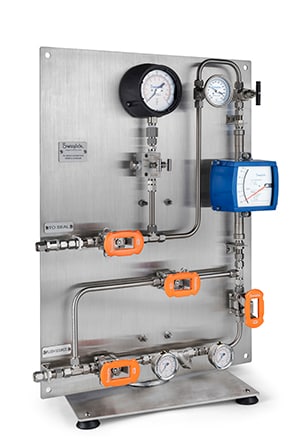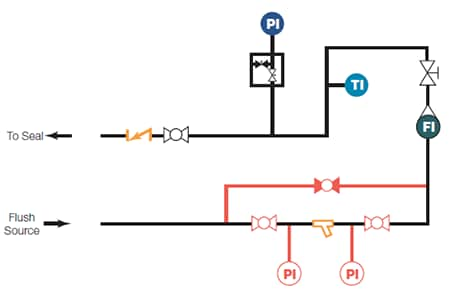 Figure 4. Plan 32 panel installation and P&ID, optional components shown in red.

The selection and specification of a seal piping plan depends on the application and the intended service conditions. As per API 682, this selection shall be made by the purchaser and/or the mechanical seal manufacturer. There are many variables that contribute to the plan selection; however, the primary factor is the mechanical seal arrangement (1, 2, or 3), combined with various considerations for the application and service conditions. API 682 4th edition clearly outlines piping plan selection procedures in Annex A sheets 7 to 9 of the standard 1.
While the API 682 provides guidance for the selection of seal piping plans, the potential variations and complexity of these systems can make proper selection challenging. Swagelok has made this process easy by creating the Swagelok Mechanical Seal Support Systems Application Guide. This guide simplifies the selection and configuration process, while utilizing design standards and best practices from API 682.
Our team of local application engineers are always available to provide the support needed for configuring a system for performance, reliability, and safety.
Need help with a specific application?
Swagelok Central Ontario | Atlantic Canada's Virtual Round Table connects you with our local subject matter experts.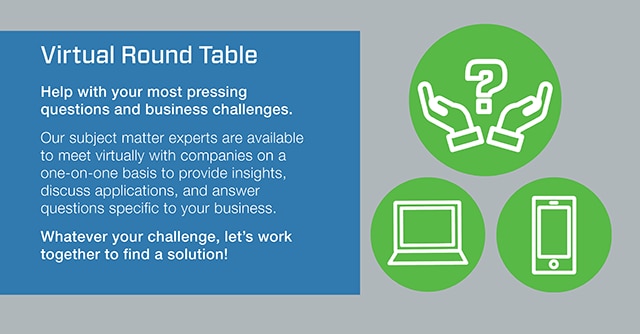 sign up for a virtual round table
We look forward to sharing more knowledge with you. To stay up to date on our latest blog posts, please subscribe at the link below.
1. API Standard 682, Fourth Edition, 2014 "Shaft Sealing Systems for Centrifugal and Rotary Pumps," American Petroleum Institute, Washington, D.C.